CVNNH – History and continuity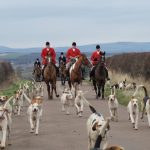 By Frank Houghton-Brown
Reproduced here by kind permission of Horse and Hound Magazine
Sir Alfred Goodson was a farm student at Akeld near Wooler, with his great friend Sir Nelson Rycroft – father of the legendary hound breeder Sir Newton Rycroft – when the Border hounds streamed off the steep hillside above with their hard-pressed fox just in front of them. They had run 11 miles in a straight line from the Scottish side of the Cheviots and their pilot took refuge somewhere in the confines of the steading.
This pack of seasoned fox-catchers could not locate their quarry, so their huntsman – the doughty Jake Robson – took them away. One sagacious dog hound would not leave, so sure was he that this stout hill fox was hiding among the buildings. Eventually with a roar of his heavy voice he pulled the fox from his hiding place in the pigsty and killed it.
Sir Alfred's father was son to purchase the nearby hill farm at Kilham for this son, where he started and kennelled his own fledgeling pack. So impressed was Sir Alfred with this tough doghound, Border Stormer 19, for his single-handed feat, the he was used as the sire for his first litter out of his foundation bitch, Goathland Rosebud 21, and the College Valley hounds were formed in 1924.
Sir Alfred was to become a famous breeder of stock – Aberdeen Angus cattle, Cheviot sheep, chickens, racing pigeons, Suffolk Punch horses, guinea pigs – and his 55 years of mastership ensured the hounds were line-bred with specialist working qualities for the hills.
A worthy successor
Continuity and forward planning has been the key to accomplishing this. Martin Letts, Sir Alfred's chosen successor, is still in office after 52 years. Martin had the foresight, like Sir Alfred, to arrange his own succession by securing the services of Ian McKie as joint-master and huntsmansome 13 seasons ago – only the third huntsman of these hounds in 92 years. Ian and his hugely supportive wife Tocky arrived from the Bicester country, where he had 16 successful seasons as joint-master, sharing the horn with the now retired professional huntsman Patrick Martin.
Ian's "Farquar-esque" style of charming the farmers, and crossing the country with verve and panache while still allowing the venery to be of the highest quality, had earned him a glowing reputation in the south.
Martin suggested to Ian and Tocky that a suitable estate, which had been an intensive shoot, was on the market and that it would be a perfect home for the new master and huntsman. What a wise move this was, as the McKies have brought a fresh approach to dealing with the new complexities of running a hunt country.
Ian is keen to point out the vital role his wife and joint-master has played in his hunting career. "Whether acting as field master, hostess, diplomat or counsellor, I couldn't have done it without her."
The theme of continuity runs to the kennels at Langham Toll, recently gifted to the hunt by the Goodson family and where Andrew Proe is in his 32nd season as kennel-huntsman, stoically assisted by his wife Sally.
It is a common theme in Ian's generous and modest nature that he is keen to praise others and deflect the spotlight. He reflects on how lucky he has been to have two such loyal and knowledgeable men as his kennel-huntsmen during his career.
"I owe so much to Patrick and Andrew," he says. "They have been so crucial to all the fun I have had and have taught me so much."
The North Northumberland amalgamated in 1982 and they too have a robust theme of continuity that they brought to the party. Their kennels were on Lord Joicey's estate at Ford and Etal, and the Joicey family are still staunch supporters. Katie Crosbie Dawson, Lord Joicey's sister, is a joint-master and her husband Tom the hunt chairman.
Tom was keen to stress what a marvelous job the McKies have done for the hunt: "Ian has brought such a sense of fun and through his people skills has ensured that we are welcome almost everywhere."
With the joining of the two different countries, the combination of hill and low country required some different skills for the College Valley hounds and Ian points to the value of the female "W" line, which came from the North Northumberland kennel, in its attributes of accuracy and persistence.