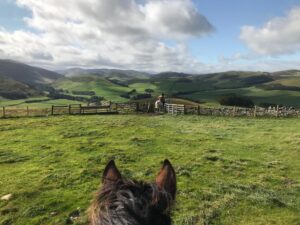 This year's St Cuthbert's Ride was held on the fringe of the Cheviot Hills at Lanton.
After a week or so of good dry weather, conditions underfoot were perfect for a 10 mile route along grass margins past Sandy House, climbing up to the heights of Lanton monument before passing along the edge of the Bowmont burn. Further on into the upper reaches of Glendale, the ride finished off with a run at the jumps and a canter back to the start for a rosette and a bacon buttie. There was plenty of open grass to cover, affording superb gallops on the top fields, with wonderful photo opportunities. We had 185 entries on the day, with riders from across the Borders to Durham and everywhere in between.
With the recently upgraded Covid 19 protocol for Northumberland, safety measures on the day were enhanced in line with advice, which everyone seemed content to follow, competently assisted by a great team of traffic controllers, parking managers and stewards.
We were supported on the day by volunteers from the North Northumberland Hospice to whom we donate a portion of the funds raised, a great local cause.
Next year St Cuthbert's ride will be back at its spiritual home. Our huge thanks go to Ian and Tocky McKie for opening up the stunning country of Lanton for us this year.
Photos from MPG photography will no doubt be available soon on facebook and please keep an eye out for Eddie's photos on the CVNNH website.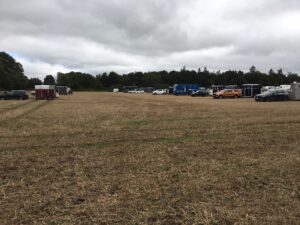 The socially distanced parking