St. Cuthbert's Ride 2018 news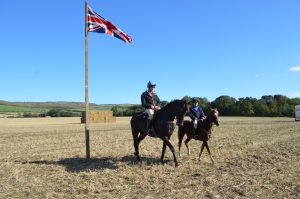 St. Cuthbert's Ride was held in September for the 27th year.    It has missed only one year in the last 28 when, in 2001, all movement across agricultural land was halted due the nationwide outbreak of foot and mouth disease.   This year the day brought lovely weather and over 200 riders with their horses and ponies in all shapes and sizes;  the riders ranging in age from 5yrs to 80yrs!     The off road 10 or 8 mile circular route has spectacular scenery with fine views of the Cheviot Hills in the west and of the sea Holy Island.
The Ride is a Hunt fundraiser but over the years it has also donated more than £26,000 to (mostly) local charities.   This year we were please to give £1500 to HospiceCare.    As always, our thanks go to the landowners who allow the Ride to take place across their land.