CVHSC Burn's Night Supper
The CVHSC held their second Burns Supper on Friday 17th January at Barmoor by kind permission of Tim and Rosanna Smalley, the house is an ideal venue for an event of this type and what followed was a very sociable evening enjoyed by all.
The Chairman welcomed the company and started proceedings with the Bard's own "Selkirk Grace", following the consumption of an excellent finger food platter the star of the show "the Haggis" was piped in by Ollie Farr, the Chairman addressed the Haggis with enthusiasm and some appropriate theatrics, luckily no one got in the way of the flashing dagger used to cull the Haggis.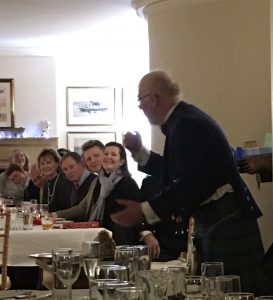 The traditional fare of Haggis, Neeps and Tatties was enjoyed(? to varying degrees) by the guests before desserts, cheese and coffee were consumed "Till a' their weel-swall'd kytes belyve, Are bent like drums;
The evening entertainment continued with Julia Wailes Fairbairn accompanied by Paul Mak on the Ivory's giving us a lovely rendition of Amazing Grace, the main event of the evening the Immortal Memory was provided by Douglas Douglas a veteran of many Burns Suppers who provided a fascinating insight into the man who was Burns and a spin on one of the poet's most famous works " Tam O'Shanter" that was a lot more understandable for the assembled company than the original.
The evenings entertainment continued with James Dobie reciting "Handsome Nell" which is thought to be Burns first works, Colin Sykes then gave us his take, along with a fair bit of audience participation of "A man's a man for a'that", the Supper was brought to a close with Julia again accompanied by Paul giving the company the opportunity to join in with a stirring rendition of "Flower of Scotland"
Running in parallel with the Supper was a "Silent Auction" which is one of the most important fund raising activities of the Supporters Club, this provided a bit of fun and some very competitive bidding, one of the most sought after lots was a guided Cheviot Walk followed by Tea in the farmhouse at Langleeford, the winning bid changed hands on many occasions on this lot, the auction itself raised £2,000 which was a fantastic result, and monies will be transferred to the Hunt in due course
All in all an enjoyable evening and a great success for the CVHSC fund raising activities.