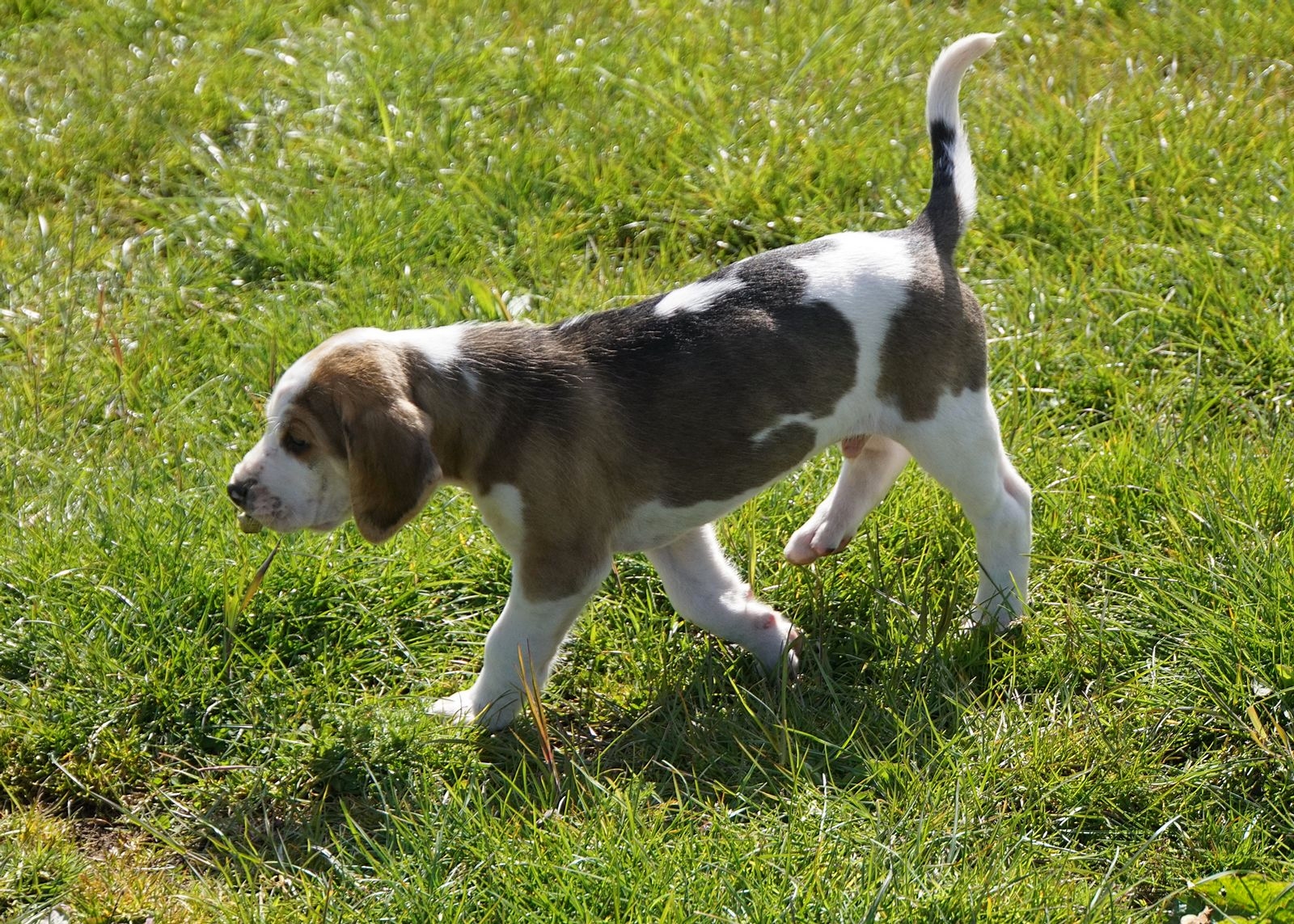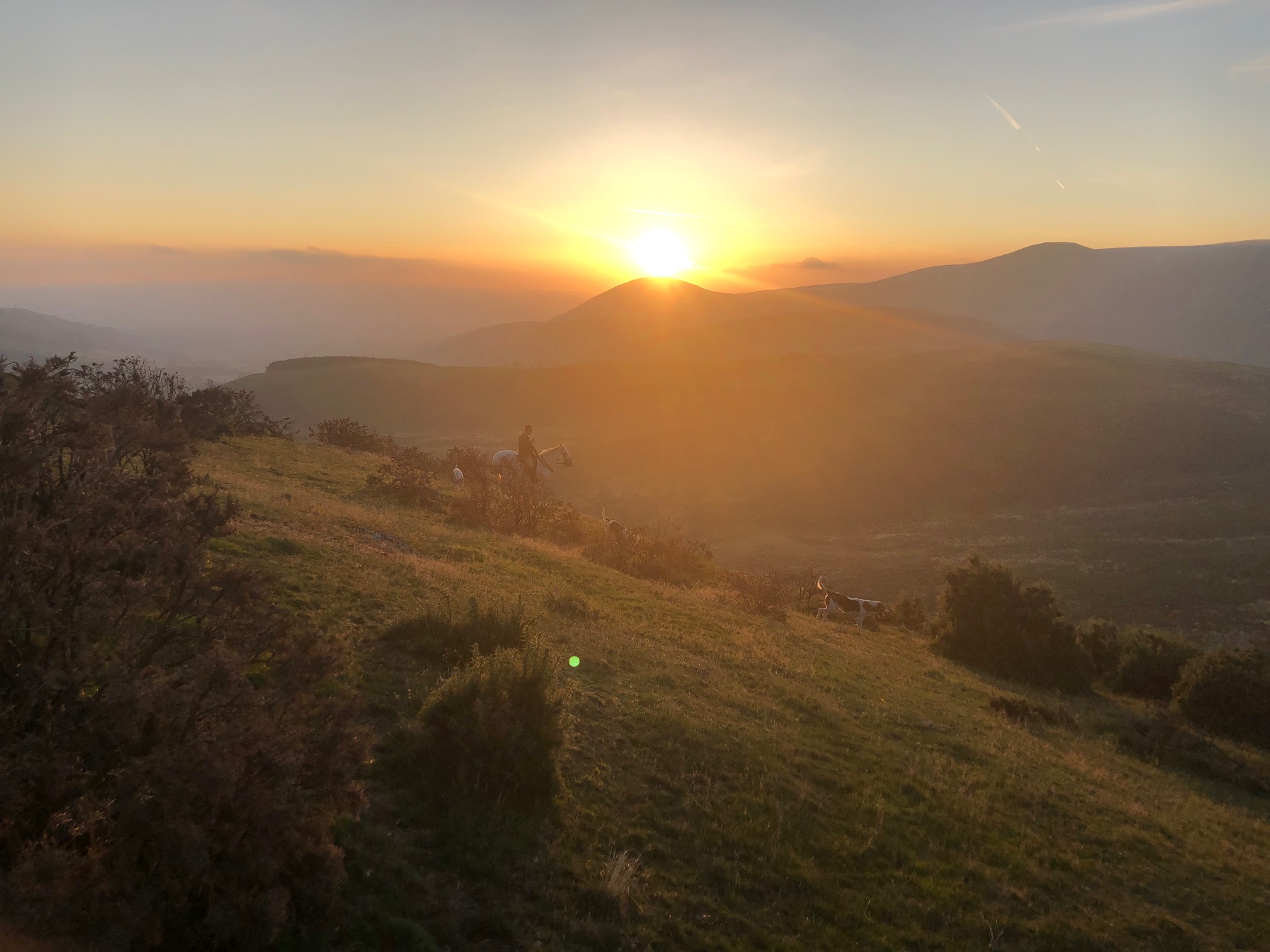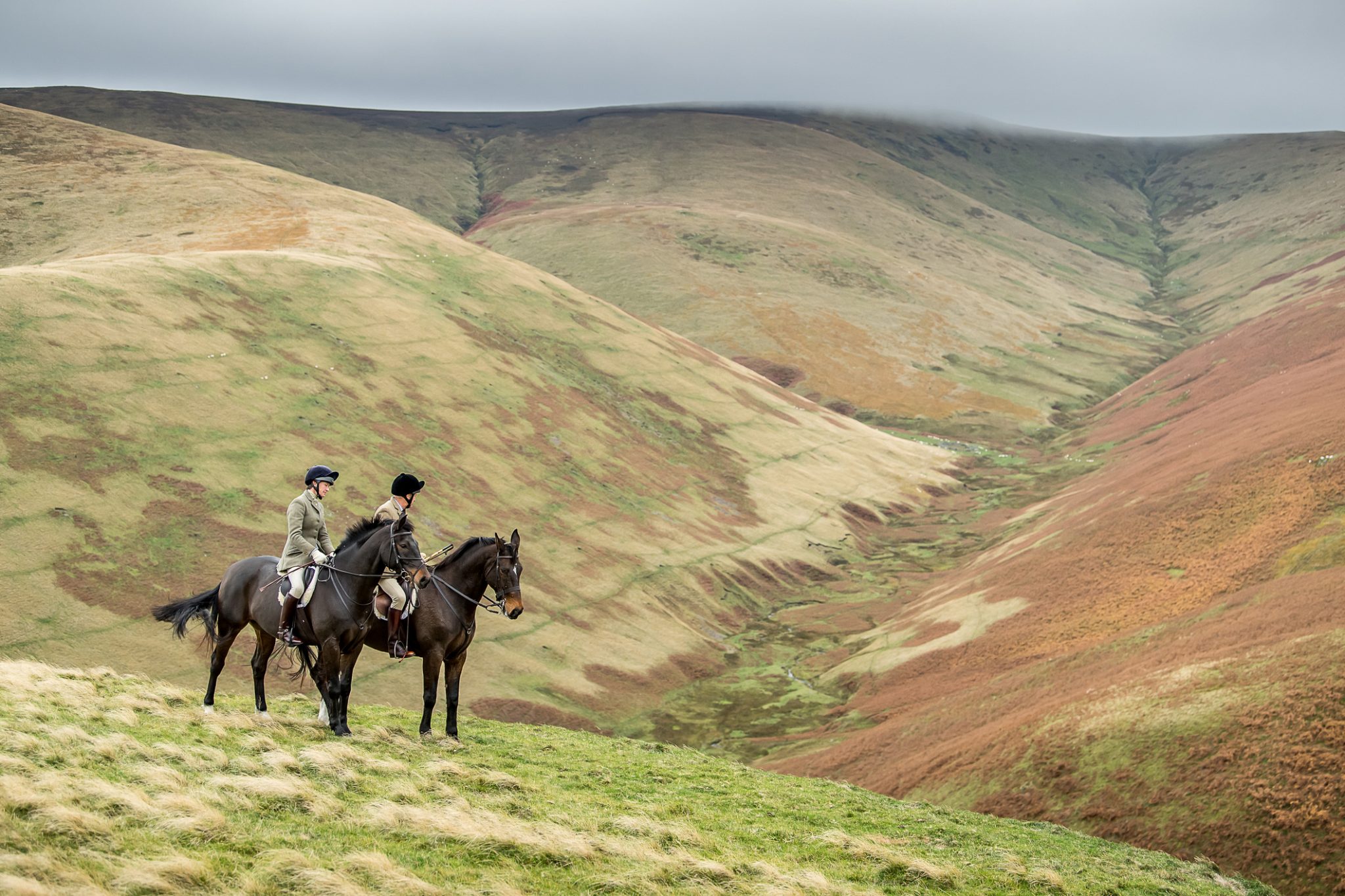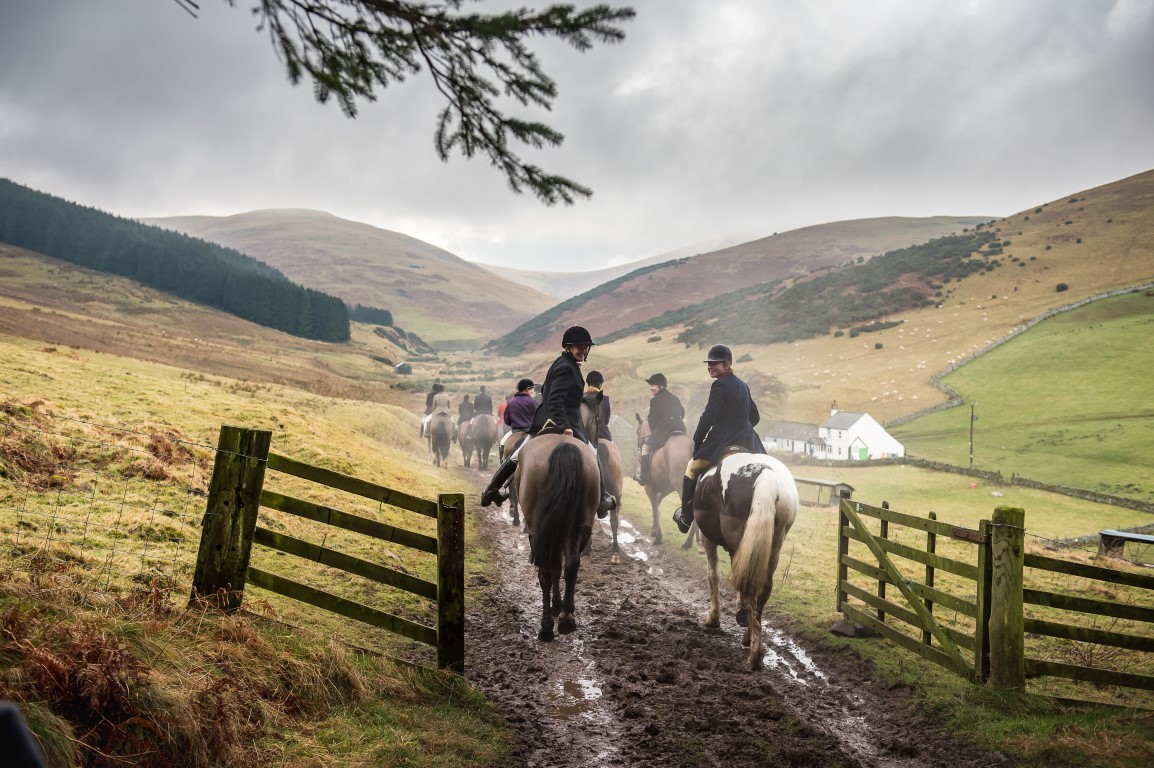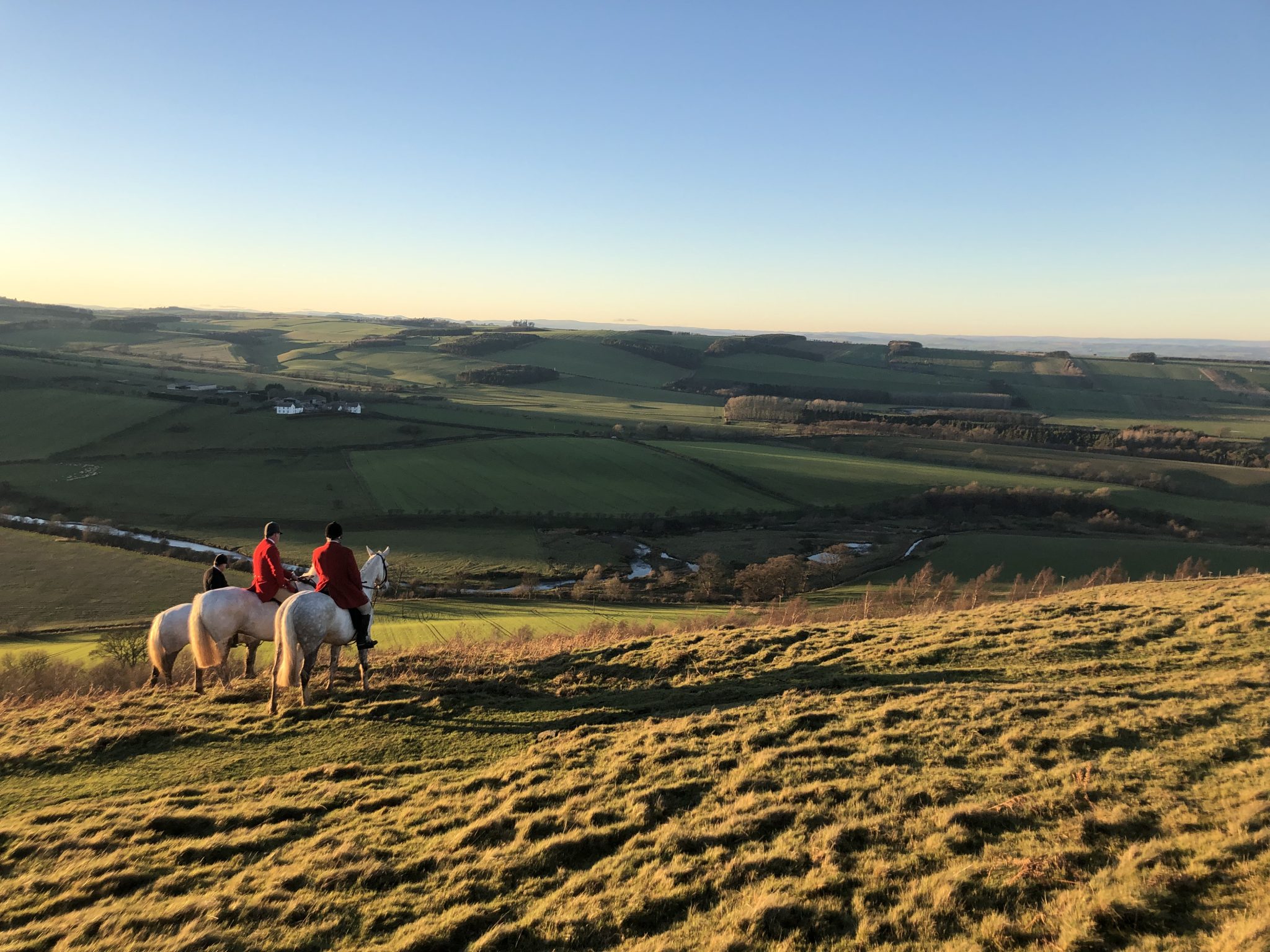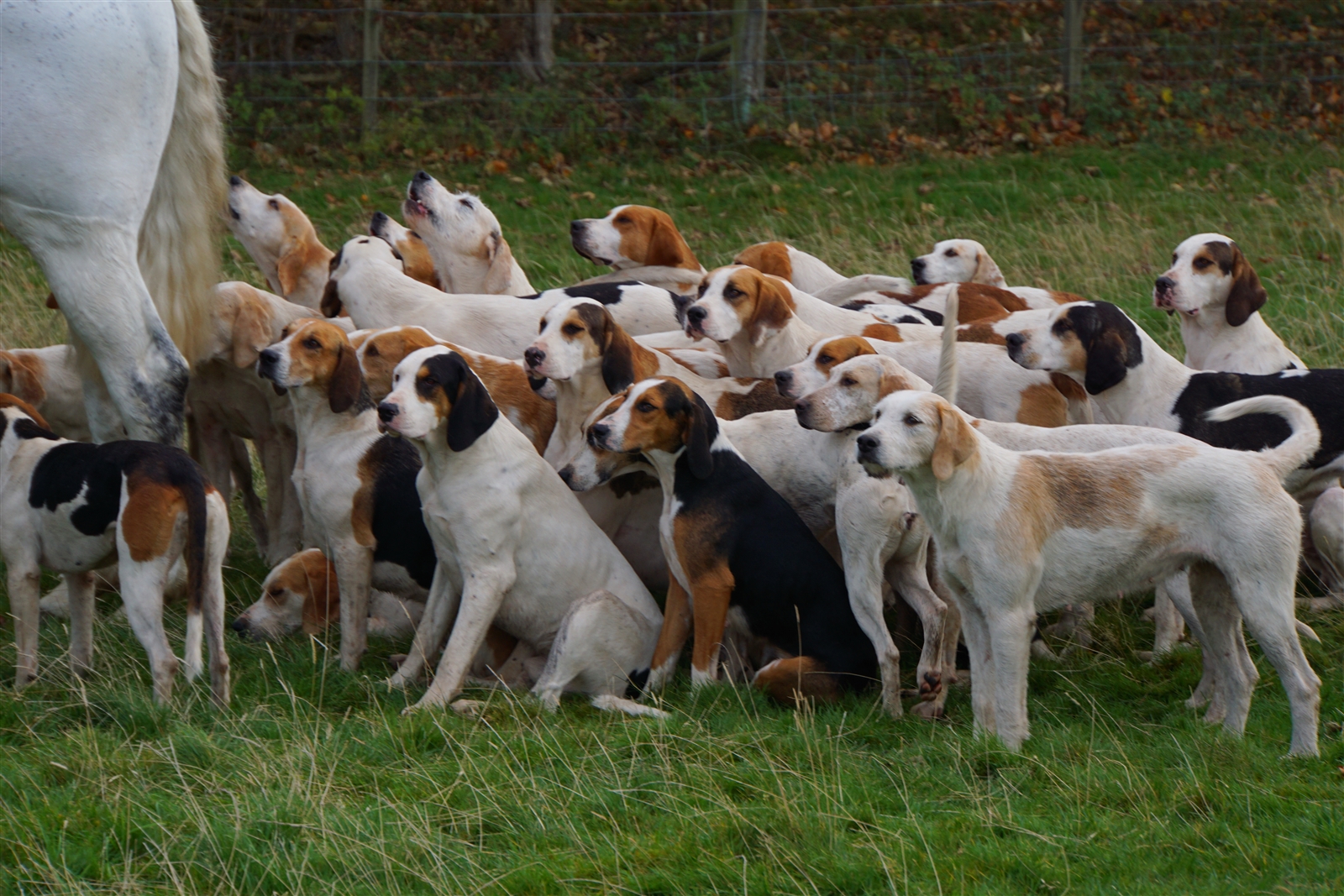 Welcome!
Welcome to the College Valley and North Northumberland Hunt (CVNNH) website. Meeting twice a week on Tuesdays and Saturdays from September to early March, the CVNNH is a celebrated pack of foxhounds which was formed in 1982 when the College Valley Hunt amalgamated with the North Northumberland Hunt.
We hunt within the laws of both England and Scotland across an area which stretches from Holy Island in the very North East of Northumberland, taking in the Cheviot Hills, up to the Bowmont Valley and Hownam in the Scottish Borders.
Our hunting country is diverse and rural, encompassing rolling grass and woodland in the low country as well as the fabulous white grass of the hills. We have excellent relationships with local farmers and businesses while we also endeavour to provide a focus for local community activities and fund raising.
We are particularly pleased to welcome Newcomers to hunting who can come out with us for the first time by arrangement for no charge.
We welcome followers throughout the season on horses, in cars or on foot, although we do ask that anyone new wishing to join us obtains permission from the Hunt Secretary in advance.
To find out more about hunting with us, please look at the various sections of this website or simply contact the Hunt Secretary or fill in the enquiry form in the Contact Us section.
Event Information:
Countryside Alliance Newcomers Day

9:30 am

Hethpool Showfield

CVNNH Newcomers Day: Saturday 20th October 9.30am at Hethpool Showfield FREE to all newcomers to hunting.

The Countryside Alliance's annual Hunting Newcomers' Week will this year take place from 15th – 21st October. The aim of this week is to introduce as many new faces to the hunting field as possible and to encourage those that have never been hunting before to give it a try.

Hunts generally welcome newcomers throughout the year anyway, however it can be a daunting prospect, particularly if you haven't been out before or have perhaps moved areas and had a break since you last went out. Joining forces with other like-minded people on a specific day can make it easier for those wanting to overcome any reservations they may have.

As always we are inviting any registered packs – including foxhound, beagle, harrier, basset, draghound and bloodhound packs – to organise a specific meet, or to organise an activity such as a tour of the kennels during this designated week to give everybody an opportunity to get involved with their local pack.

"Every year we have more and more people using this week as the perfect opportunity to try hunting for the first time," explained the CA's Polly Portwin. "We have received many heart-warming reports from those who have taken part, ranging from those who have simply wanted to tick it off their bucket list to those who have never been brave enough previously but have experienced hound exercise and then become hooked and gone on to become regular subscribers."

No special clothes or kit are required to be able to take part, however those thinking of trying hunting for the first time are encouraged to read the Countryside Alliance's Newcomers' Guide To Hunting which is available on PDF to download.

Hunts are invited to send us details of any newcomers' meets or events being planned so we can advertise them in our Newcomers' Events Listing on our website. Please contact Henrietta Rutgers athunting@countryside-alliance.org for any supporting literature or for further information about your local pack.
OUR EVENTS
We are continually adding to our event page.  Please call back to see what we are up to.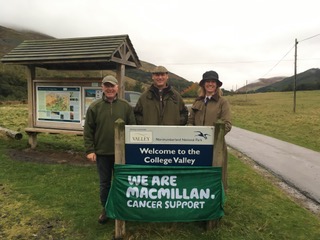 Our Hunt Supporters Clubs Supporting Macmillan Cancer Support
In May the CVHSC raised £800 which was split equally between the CVHSA and Macmillan Cancer Support
Stephen Crees from the College Valley ( centre) organised the the event which both parties supported, obviously myself in picture along with Jane Farr who was representing Macmillan.
And in September, A Musical Soiree was held at Pallinsburn House , by kind permission of Mr. and Mrs. George Farr.   This provided jolly entertainment for a packed audience.   The Piano Men – local accomplished musicians, David Wood and Paul McDermott, and vocalist Julia Wailes-Fairbairn, performed a programme of 20th Century Music from 1910 Ragtime to more contemporary popular music up to the turn of the century.   Julia was joined for many of her songs by the guests.   During the supper interval for the musicians, Andrew Joicey made sure that the music did not stop, having taken Paul's place at the piano.
The evening had got off to a good start with the guests bringing delicious dishes of home-prepared food, and they had been invited to compete in a best-dressed table competition.   As time moved on, many of the guests got up to dance, and the evening finished with numerous expressions of how much they had all enjoyed it, and....... when is the next one?
The proceeds of the evening, which was organised by the North Northumberland Hunt Supporters Club, were also donated to Macmillan Cancer Support (£850) and the North Northumberland College Valley Hunt.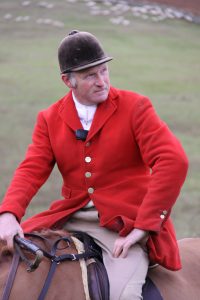 ANDREW PROE'S RETIREMENT
After 34 illustrious year's of service under 3 Huntsman, Andrew has decided to retire at the end of this season. We have all benefited from the superb way he has looked after both hounds and horses in Kennels over 3 and a half decades and will miss his unrivalled knowledge of the hills, countryside and the people within it. Andrew is a natural horseman and he is often to be seen on a far distant hill having used minimal effort to get there. Longevity is a rare commodity in this day and age and there will be a testimonial for Andrew towards the end of this season providing ample time to ensure that we give him the send-off he deserves. Perhaps the most fitting testimonial is to ensure that his last season is his best ever.
Rupert Wailes-Fairbairn
19th June 2019
If you would like to demonstrate your apprecaition for Andrew's service to us and the sport we have shared with him and make Andrew's Testimonial a huge success, please contact the Hunt Secretary here
PLEASE find more about what our hunt gets up to on the HUNT NEWS page