Don't miss Horse and Hound weekly magazine's 'Goodnight' articles written by Tessa Waugh
Welcome!
Welcome to the College Valley and North Northumberland Hunt (CVNNH) website. Meeting twice a week on Tuesdays and Saturdays from September to early March, the CVNNH is a celebrated pack of foxhounds which was formed in 1982 when the College Valley Hunt amalgamated with the North Northumberland Hunt.
We hunt within the laws of both England and Scotland across an area which stretches from Holy Island in the very North East of Northumberland, taking in the Cheviot Hills, up to the Bowmont Valley and Hownam in the Scottish Borders.
Our hunting country is diverse and rural, encompassing rolling grass and woodland in the low country as well as the fabulous white grass of the hills. We have excellent relationships with local farmers and businesses while we also endeavour to provide a focus for local community activities and fund raising.
We are particularly pleased to welcome Newcomers to hunting who can come out with us for the first time by arrangement for no charge.
We welcome followers throughout the season on horses, in cars or on foot, although we do ask that anyone new wishing to join us obtains permission from the Hunt Secretary in advance.
To find out more about hunting with us, please look at the various sections of this website or simply contact the Hunt Secretary or fill in the enquiry form in the Contact Us section.
7:00 pm

Etal Village Hall

Curry Supper (alternative to curry available)

Bar and Raffle

Chillingham Wild Cattle - guest Speaker Ellie Waddington - Ellie was appointed the first female warden in 2015 to ensure the survival of this rare breed of wild cattle.

Tickets £15 - please apply by the very latest Friday 16th February to Fiona Jell jell.couplandcastle@outlook.com or 01668 216292

Cheques payable to NNHSC

1:00 pm

Ratcheugh Park, Alnwick

This year's Point-to-Point has been postponed from 11th March and is now on Easter Monday 2nd April 2018 at Ratcheugh, Alnwick NE66 3AE First Race 1pm

Point-to-Point racing takes place because an army of volunteers attend on the day to assist in so many different ways. A successful meeting depends entirely on attendance and sponsorship. Anyone wishing to be involved or interested in sponsorship should contact Simon Orpwood on 01890 850266/e-mail s.orpwood@farmline.com.

More information on who sponsors are and the going updates point-to point can be found at www.alnwickraces.co.uk

A vast majority of hunts throughout the country hold annual point-to-point races which are major fund raising and sporting events. These races are usually held over a course of 3 miles with the horses jumping a minimum of 18 birch fences. There can be up to 6 or 8 races on the day, run as amateur steeplechases where the horses are qualified to run through hunting a minimum of 5 days with any recognised pack of hounds. Point-to-pointing has its own Regulatory Authority with rules and conditions.

More information on point-to-pointing can be found on the official website http://www.pointtopoint.co.uk

9:30 am

Kimmerston, Milfield NE71 6JH

CANCELLED DUE TO WEATHER CONDITIONS

North Northumberland Hunt Supporters Club

HUNTER TRIAL & CLEAR ROUND, at Kimmerston starting at 9.30am on Sunday 8th April 2018.

Download the Schedule & Entry Click to Download - Downloads so far: 382

10 am - 1 pm

Sandyhouse, Milfiled NE71 6TJ

New for 2018, St Gregory's Ride, 10 miles of superb riding with fantastic views of the surrounding countryside, easy parking near Sandyhouse Farm

Refreshments available on completion of the ride. £20 per person, for further information contact:
George Halliday on 07801 245064 or kl78hal@gmail.com

Click to download advert Click to Download

12:00 pm

College Valley Showfield

More information about this event will follow.

9.30 onwards

Kimmerston, near Milfield, Wooler

More information about this event will be available nearer the time including downloadable entry forms.

9.30am - 1pm

Wooler/Belford area (start location detail nearer the time)

10 to 7 mile road Fun Ride. Wooler/ Belfore area (start location detail nearer the time).
Spectacular views of Holy Island to the west and Cheviot Hills to the east...and you can even see Scotland!
Visit St. Cuthbert's Cave. Optional small jumps. Start time anytime between 9.30am and 1pm.
Catering van on site. A fun day out with your horse!

7:30 pm

Lanton, Milfield, Wooler

Invitations to the CVNNH Hunt Dance will be sent out in due course.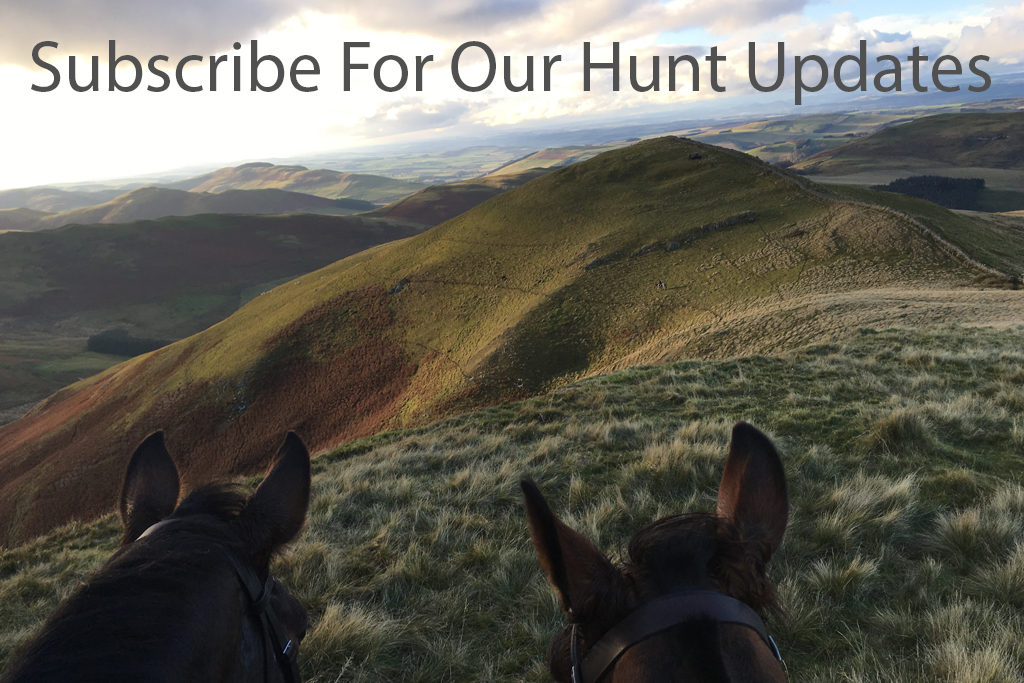 Testimonials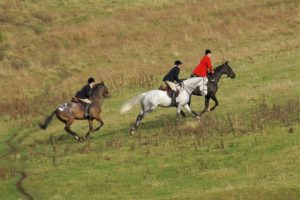 Thank you for the hunting you have all given. I've had some cracking runs and enjoyed the company of some lovely people.
Jeremy S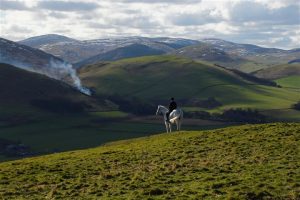 Thanks to the Mastership, the Committee and Andrew for a great season with some wonderful hunting - and of course, the usual high standard of Field Mastering! 
David L
CVHSC Raffle
The College Valley Hunt Supporters Club raffled a walking stick donated by Murray Playfair.  Thanks to all those who supported this as it raised £150 and the walking stick was won by Ian McKie.