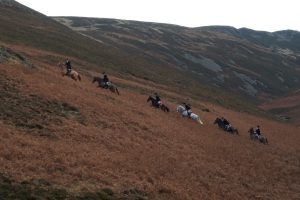 Point-to-Point Races
A vast majority of hunts throughout the country hold annual point-to-point races which are major fund raising and sporting events. These races are usually held over a course of 3 miles with the horses jumping a minimum of 18 birch fences. There can be up to 6 or 8 races on the day, run as amateur steeplechases where the horses are qualified to run through hunting a minimum of 5 days with any recognised pack of hounds. Point-to-pointing has its own Regulatory Authority with rules and conditions.
Our Point-to-Point is to be held on Sunday 5th March 2017 at Ratcheugh, Alnwick.
Point-to-Point racing takes place because an army of volunteers attend on the day to assist in so many different ways. A successful meeting depends entirely on attendance and sponsorship. Anyone wishing to be involved or interested in sponsorship should contact Simon Orpwood on 01890 850266/e-mail s.orpwood@farmline.com. More information on point-to-pointing can be found on the official website www.pointtopoint.co.uk.
Point to Point
NORTHERN POINT-TO-POINT FIXTURES 2017 – To follow